Established on February 6, 1991, FAW-Volkswagen Automotive Co., Ltd. (hereinafter referred to as FAW-Volkswagen) is a large-sized passenger auto manufacturer jointly managed by First Automotive Group Corporation, Volkswagen AG, Audi AG and Volkswagen (China) Investment Co., Ltd. It is the domestic first modern passenger auto manufacturer constructed according to the economic scale.
Through the development of around 30 years, FAW-Volkswagen has had the capacity layout in Changchun in the Northeast, Chengdu in the Southwest, Foshan in South China, Qingdao in East China and Tianjin in North China. It boasts eight professional manufacturing factories, namely No. 1 Car Factory, No. 2 Car Factory, No. 3 Car Factory, No. 4 Car Factory, No. 5 Car Factory, No. 6 Car Factory, Business Division of Power Assembly, and Punching Center.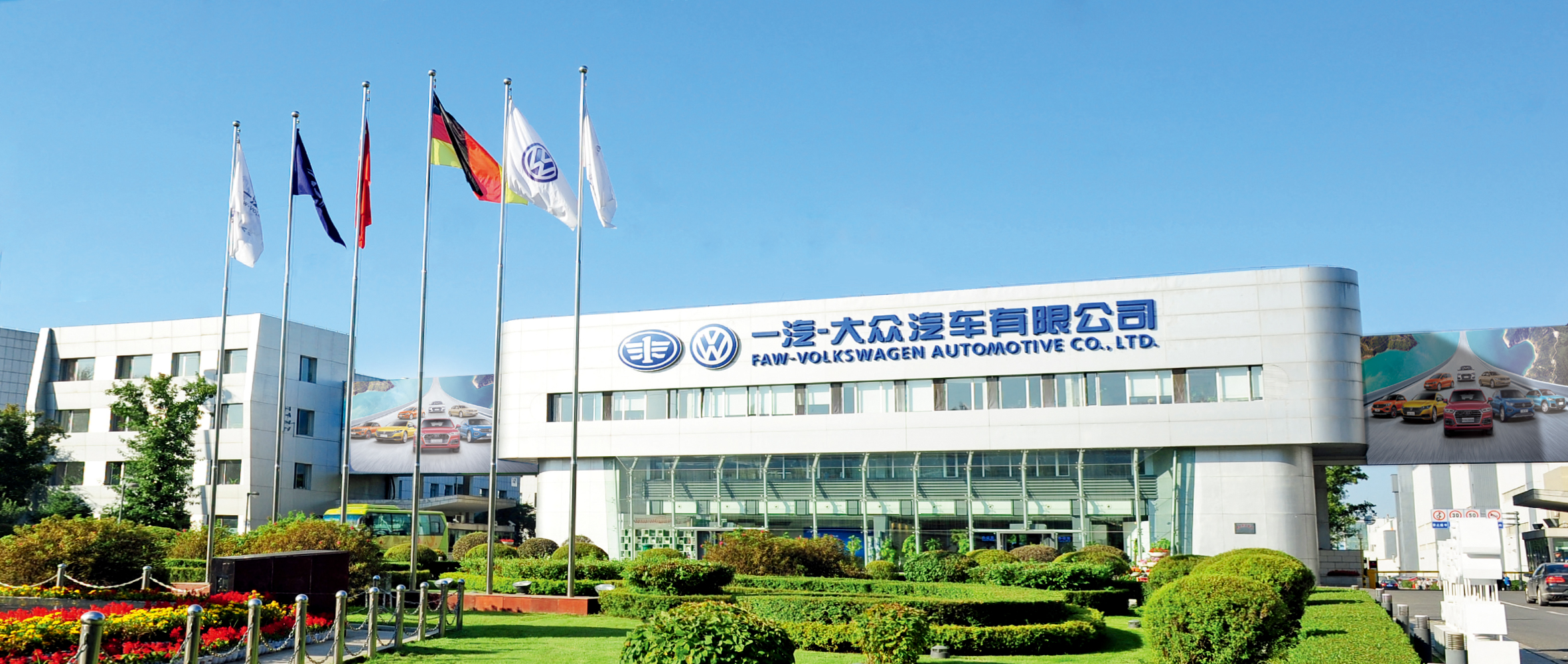 It has expanded from one brand with one product at the very beginning to three brands, namely Audi, Volkswagen and Jetta with over 20 products, including Audi e-tron, Audi A6L, Audi A6L e-tron, Audi Q5L, Audi A4L, Audi Q3, Audi A3 Limousine, Audi A3 Sportback, Audi Q2L, Audi Q2L e-tron, Magotan GTE, New Magotan, CC, TAYRON, TAYRON R-Line, T-ROC, TACQUA, Long-Wheelbase, Golf, Golf GTI, Golf R-Line, Golf Sportsavn, e-Golf, C-TREK, Bora, e-Bora, Jetta VS5 and Jetta VA3. FAW-Volkswagen has become a mature passenger auto manufacturer covering Level A, B and C at home.
Technical R&D
Through the rapid development, FAW-Volkswagen has kept strengthening its technical R&D. At present, the company has important technical departments including the modeling test plant, the rack test plant, the modelling and VR center, the measurement technique center, the vehicle safety center, the trial-manufacturing center, and multiple functional labs. In 2016, the rack test plant was settled; the North China base started to be constructed. In 2017, the acoustics center was constructed and put into use; Heihe Winter Test Site was formally put to use. FAW-Volkswagen automobile testing ground has a floor area of 14 square kilometers and an area of various test run roads of 670,000 square meters. Its Phase I began trial operation; its Phase II began to be constructed. Its complete test means and high-precision test equipment ensure FAW-Volkswagen's excellent technical strength in terms of product pre-production, localized development, domestication recognition, spare parts development and road test of finished automobile.
Advance together
FAW-Volkswagen uses the world-leading MQB and MLB platform of Volkswagen Group. Various production sections make use of the internationally leading equipment and techniques, thus ultimately ensuring the precision and stability of FAW-Volkswagen's products in each production link.
FAW-Volkswagen regards quality first as its operation policy, users' satisfaction and expectation as the constant quality pursuit, and "Advance together" as its core brand development idea. Meanwhile, it keeps carrying out the quality improvement to satisfy users, standardizing the service process, improving service standards, and improving the pre-sales, mid-sales and after-sales service. It provides whole-process and all-round considerate services for customers and sets up the perfect customer relations management system.
Cooperation and win-win
In addition, FAW-Volkswagen has also set up the efficiently operated marketing network covering the whole country. It cooperates with dealers based on the idea of cooperation and win-win. Through multiple marketing means, including the user-centered 4S, 3S, urban showroom and online marketing, tens of thousands of marketing personnel have formed the strong market frontier of FAW-Volkswagen through their efficient and user-friendly service.
The rapid development of FAW-Volkswagen has boosted the growth of the supplier system. At present, around 600 suppliers serve FAW-Volkswagen, including over half Level A suppliers. FAW-Volkswagen has implemented the improvement plan of suppliers' comprehensive ability. It conducts joint review of suppliers' logistics system, cost control system, product development and project management system, promotes suppliers' main professional ability to have all-round and balanced development, and ensures that its product manufacturing chain is within the system of all-round quality management at the very beginning.
The best employer
Through domestic university student recruitment, overseas recruitment and social recruitment, FAW-Volkswagen has formed the talent team and talent reserves in the technique and management field. Meanwhile, it respects staff's personal development will, and keeps improving their abilities and values. It has set up a great employer brand image inside and outside the enterprise, and has been widely recognized by professional organizations and the public. Up to now, the company has won the certification of "the outstanding Chinese employer" certified by Top Employers Institute for 11 consecutive years. It has ranked the first among "the best Chinese employer for university students" in the auto industry for 9 consecutive years, which is selected by ChinaHR.
Corporate social responsibility
FAW-Volkswagen aims to become the "most excellent auto enterprise in China and the most vital company in the eyes of staff and partners". It also positively practices the mission of "producing the valuable and classical automobiles, creating excellent travel services, and promoting the harmony among people, autos and the society". While realizing its own good economic benefit, FAW-Volkswagen also positively fulfills its social responsibility. On the one hand, FAW-Volkswagen contributes to the local economic development and the prosperity of the auto market while providing products with reliable quality for consumers. On the other hand, it keeps sticking to the environment-friendly and green idea, supports the public welfare cause, and positively advocates traffic safety. It also sets a positive example, thus winning favor of users, the industry and the society. Meanwhile, the enterprise's brand and product brands have won multiple awards of the government, the industry and media.
2025 strategy
In face of the new tendency of industry development, by combining the current strategy system, FAW-Volkswagen formally released its "2025 strategy" in 2017. The new "2025 strategy" fully seizes the change tendency of the external environment, and analyzes the enterprise's own conditions. It pays attention to not only its business development, but also management improvement. It bears the company's development planning of having a better future.
FAW-Volkswagen is forging ahead steadily on the way of sustainable development.
To learn more, please go to

http://www.faw-vw.com/